This is a print from www.skovkat.dk

EC WW91 Gwynne Vaughani Felis Jubatus, DM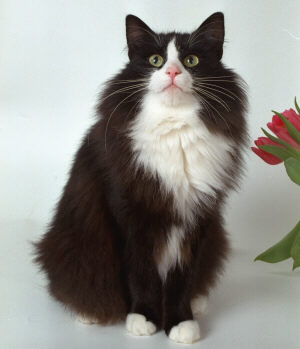 Photo by Kjeld Krogh
Breed

Norwegian Forest Cat

Date of Birth

13-07-1992

Father

ECÂ Flatland's Celius, DM

Mother

EC Greatest Hits Nefertite, DM

Sex

Female

EMS Color
NFO n 09Â (Group 2)
Black/white
Title(s)
WW94 - FIFe World Winner 1994
EC - European Champion 
DM - Distinguished Merit
Genotype

aaDdiiT-Sswwoo

Breeder(s)

Jette Eva Madsen & Martin Kristensen

Owner(s)

Martin Kristensen

More Info
 
Gwynne Vaughani
by Jette Eva Madsen.
Gwynne was a daughter of Flatlands Celius. She is from one of his very first litters so we didn't know what to expect. We decided to keep her partly because her mother Greatest Hits Nefertite soon had to be pensioned and partly because Gwynne was a very pretty kitten that looked as if she would be a large healthy cat.
Gwynne turned out to be everything we wanted for a female cat. She became both a wonderful show cat and a perfect mother cat. The height of her show carrier was when she became a World Winner in Switzerland 1994. It is hard to tell what was the height of her career as a breeder. She had beautiful kittens right until a year before she died.
When Gwynne was one and a half years old she teamed up with Skønhedsplet Felis Jubatus, and the two females were always together.
The two of them together were very strong. They supplemented each other marvellously and it was fantastic to have the possibility to see how much cats can achieve when they know each other and when they can work together. It was nearly impossible to hide their favourite food. They always found a way to open doors, bags, and boxes. When they wanted attention it was impossible to overlook their attempts to get in contact. Life with the two of them was very challenging and satisfying.
We miss them and their team work very much so we will urge other breeders to try to get a team of two well functioning cats together in order to experience that extra dimension of being a cat owner.