This is a print from www.skovkat.dk

EC Flødekaramel Felis Jubatus, DM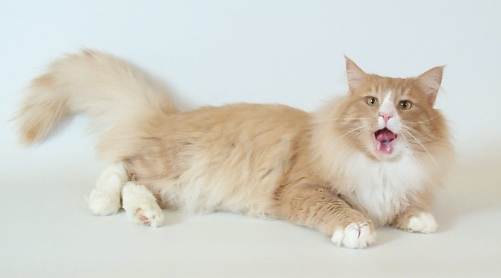 Photo by Martin Kristensen
Breed

Norwegian Forest Cat

Date of Birth

02-01-1998

Father

EC EP Gustav Vasa Felis Jubatus, DM

Mother

CH Karen Augusta Felis Jubatus, DM

Sex

Male

EMS Color
NFO e 09 23 (FIFe Group 6)
Creammackereltabby/white
Title(s)
EC - European Champion
DM - Distinguished Merit
Genotype

aaddiiSsTTwwOY

Breeder(s)

Jette Eva Madsen

Owner(s)

Jette Eva Madsen

More Info
 
Flødekaramel - The cat that nobody wanted
by Jette Eva Madsen.
When Flødekaramel was born I instinctly knew he would be a fantastic looking cat. Therefore, I tried my very best to make it known that we had a very large kitten that could possibly be a fine breeder for someone. I sent photos to several breeders and everyone replied that they did not want a cream male, they were looking for a silverblotchedtabby or a blacktabby/white one. In the end, although Flødekaramel's image was spread all over Europe, I had to realise that cream was just not a popular color and especially not thought to be a suitable color for a large male.
Time went by. Flødekaramel kept growing, and so did our attachment to him. After some months he just stayed, and when he was 9 months old we decided to take him to his first show. He never liked showing much, probably because he started too late. But then he liked female cats the more, so during the years he managed to shire a steady 2-3 litters each year.He also continued to grow to become a very large and impressive male that had a combat weight of nearly 8 kg.
We never regret that we kept Flødekaramel. Cream may not have been a popular color for the people looking for a new show and breed quality male in the nineties. For us, however, cream turned into much more than the color of my grand mother's knickers. We miss the creamy fixed point that by his very appearence could calm down all other cats in our home. We miss the intelligent, door opening, purring personality that Flødekaramel was blessed with.