EC Bergansius Nehalennia, DM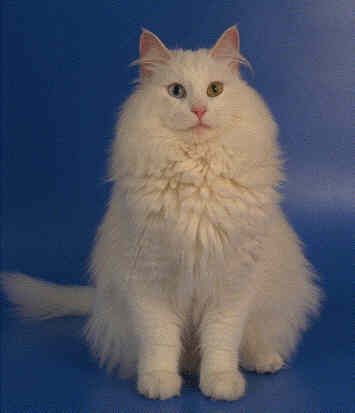 Photo by Kjeld Krogh
Breed

Norwegian Forest Cat

Date of Birth

26-04-1994

Father

EC Gustav Wied Felis Jubatus, DM

Mother

GIC Helga den Fagre Felis Audax, DM

Sex

Female

EMS Color
NFO w 63 (Group 9)
White/odd-eyed
Title(s)
EC - European Champion
DM - Destinguished Merit
Genotype

AaDDiiSsTtWwoo

Breeder(s)

Judith Zuurveld

Owner(s)

Jette Eva Madsen

More Info
 
Bergansius Nehalennia - mother of two World Winners
by Jette Eva Madsen.
While writing this I realize that it is not so long ago that we lost Nehalennia. I have not yet really accepted that she is no longer here. I still think of her sitting on her favorite spot in the cat run, and from the corner of my eye can still see her running around the corner to the food bowl.
I also think of what it must have cost Judith Zuurveld to give us Nehalennia, when her father suddenly died. Judith had Nehalennia until she was nine months old, and she loved her a lot. We all miss Nehalennia very much.
Nehalennia was a successful show cat, but most people know her as a breed cat. As far as fertility is concerned she was a lot like her grandmother. Always in heat and always with kittens. And not just any kittens - no, Nehalennia is the mother of some of the best kittens in the world. Judith gave us a fantastic cat. We can never thank her enough.
You are here: »
Home
»
Felis Jubatus
»
Hall of Fame
»
Bergansius Nehalennia