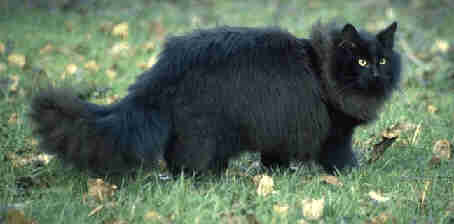 Photo by Kjeld Krogh
Breed

Norwegian Forest Cat

Date of Birth

01-04-1990

Father

ECÂ EP Truls av Bolke, DM

Mother

Libraaten Avedine, DM

Sex

Male

EMS Color
NFO n (Group 1)
Black
Title(s)
EC - European Champion 
DM - Distinguished Merit
Genotype

aaDdiiTtsswwoY

Breeder(s)

Rigmor Syverstad

Owner(s)

Jette Eva Madsen

More Info
 
Flatland's Celius - The life of a fantastic cat has come to an end
by Jette Eva Madsen.
Celius is the name of the greatest cat we have ever had and perhaps the greatest cat we will ever get. At the time Celius was born I already had 3 males: Colosseums Gustav Graah, Gustav Wied Felis Jubatus and Flatlands Bjørnstierne. I was on the lookout for a new female and had found a wonderful cat – Flatlands Clara. When I went to see Rigmor Syverstad in Norway to pick up Clara, her brother, a beautiful black male kitten, insisted that he should come along. I liked what I saw and I liked his personality. So he came along despite my conviction that no breeder wanting to build up a breeding family should buy two kittens from the same parents.
It was a fast decision, but it was one of the best I have ever made in my cat life. Celius turned out to be a very handsome, very affectionate and extremely intelligent cat that charmed everyone and took over the position as leader of our cats when he was only 10 months old. A position he held until the day he died.
The only cat who ever dared to challenge him is Gustav Vasa Felis Jubatus - the only cat I have ever known with the potential to be as large in body and soul as Celius. The two could not stand the sight of each other so it is fine that Gustav Vasa still lives - only 2 km away from me with Ulrike and Martin.
Celius turned out to be a great show cat he had a great body and a great coat and was always in fine condition. He was a great breeder and instinctively mastered all kind of females who came for a honeymoon. He was a great leader for the other cats and the kittens adored him and used him as a role model.
When he was neutered at the age of ten, he also turned out to be a fantastic indoor company for us (when he was ferile he was of course also a great sprayer). He was a great help in selling our kittens, since he always wanted to talk to everyone visiting our house. Right from the day of his birth, Celius was a very vocal cat. He has so many stories to tell and his repetoires of "miau" was larger than the one of the average cat. As a result he was named after a Norwegian MP, who always wanted the last word in Riksdagen.
We miss his sweet purring, his brisk demands when the food is not served fast enough and his calm "chatter" with the females and kittens. He was always a very healthy cat, so when he became ill between Christmas and New Year we knew something was wrong. It turned out to be cancer, and we understood that he would be leaving us soon. Again, Celius turned out to be a great cat. He decided not only to celebrate his 16 years' birthday on April 1 in style, but he also decided that he wanted to feel a touch of summer once more. However, June 29 we had to let him go...
Celius had lived his life, he had travelled around Europe, he had tried everything a male cat can ask for, and he had passed on his genes to the population of Forest Cats around the world. There will never be another Celius but he lives on through his many offspring.
You are here: »
Home
»
Felis Jubatus
»
Hall of Fame
»
Flatland's Celius