EC Greatest Hit's Nefertite, DM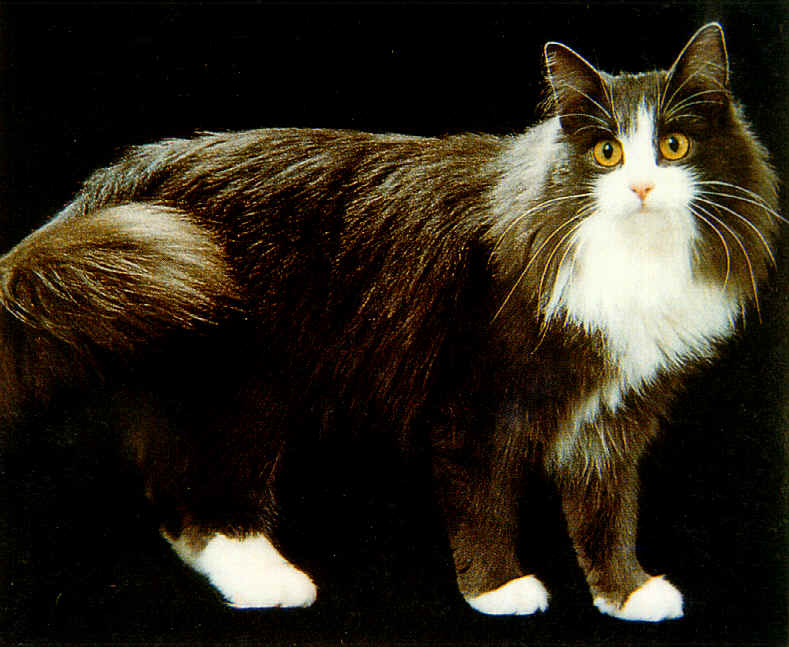 Photo by Bob Schwarz
Breed

Norwegian Forest Cat

Date of Birth

28-07-1988

Father

GIC DK Artemis's Julius

Mother

GIC Gertrud Stein Felis Jubatus

Sex

Female

EMS Color
NFO a 09 (Group 2)
Blue/white
Title(s)
EC - European Champion
DM - Destinguished Merit
Genotype

aaddiiSsTTwwoo

Breeder(s)

Marianne Rasmussen

Owner(s)

Jette Eva Madsen & Martin Kristensen

More Info
 
Greatest Hits Nefertite - a dream cat!
by Jette Eva Madsen.
Our vet had got a cat. This was a sister to Gustav Wied. She was black and white and was called Gertrude Stein. The agreement was that we should have a kitten from her first litter, and we waited and waited and wai....
At long last Gertrude Stein was mated to Artemis Julius. Both parents were black and white, and I was looking forward to having a black and white kitten from the litter. This proved to be a pipe dream. The best kitten of the litter was blue and white - not exactly the most frequent color among Forest Cats. In my view it was rather dull. Black and white at least had some style, like a man dressed in a tuxedo, and had a distinct contrast between the colors.
You have your point of view until you change it, as the saying goes. I made up my mind that blue and white was all-right, too, and returned happily with Nefertite.
She developed into a lovely cat. She carried home one triumph after another from shows. She was always looking for "mother" and was certainly not the most independent or strongest personality to be seen among cats. But it was nice, when she clinged to me and seemed to be saying: "I'll do it only if you hold my paw!"
Nefertite's greatest triumph was to become the best purebred or pedigree cat in Denmark. It was more important for Felis Jubatus, though, that Nefertite also became the mother of many successful breed and show cats. Most importantly, Nefertite was the founder of our breed of blue, cream and blue-cream cats.
You are here: »
Home
»
General Information
»
Hall of Fame
»
Greatest Hit's Nefertite