EC Gustav Wied Felis Jubatus, DM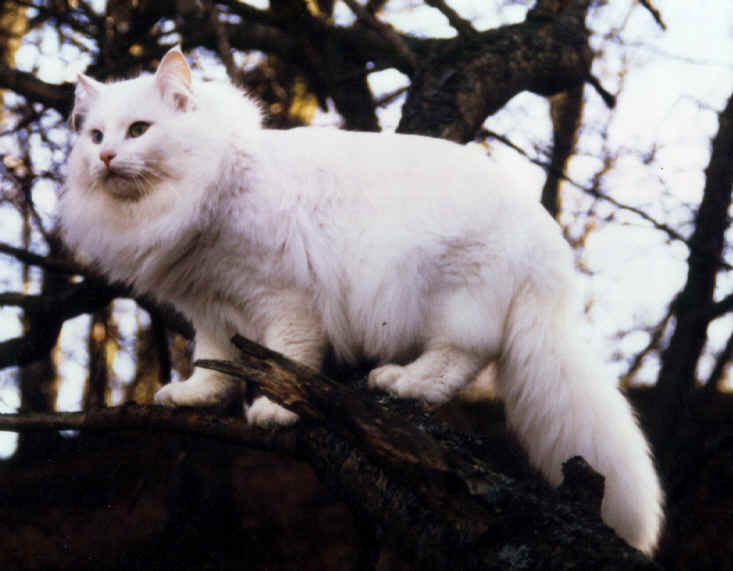 Photo by Kjeld Krogh
Breed

Norwegian Forest Cat

Date of Birth

13-09-1986

Father

EC Colosseums Gustav Graah, DM

Mother

EC Flatland's Avedine, DM

Sex

Male

EMS Color
NFO w 63 (Group 9)
White/odd eyed
Title(s)
EC - European Champion
DM - Distinguished Merit
Genotype

aaDdiiSsTtWwoY

Breeder(s)

Jette Eva Madsen

Owner(s)

Jette Eva Madsen & Martin Kristensen

More Info
 
Gustav Wied Felis Jubatus - The prodigal cat!
by Jette Eva Madsen.
Gustav Wied was from Avedine's first litter. We had both his father and his mother, and they were both quite young cats, so he was sold to Pål Olsen, a Norwegian living in Denmark.
Pål was a good cat owner and a frequent exhibitor at cat shows. He proved, however, to be more wild than Gustav Wied. When Gustav was almost a year old Pål's lifestyle could no longed be reconciled with having a cat. Consequently, Pål returned with Gustav Wied, asking whether we would want him back. The cat had won everything within range, so we accepted. Besides, it would have been unbearable to lose from our sight this magnificent male from Avedine's first litter.
Through and through, Gustav Wied was a very fine mixture of his parents. He was smarter than his father was, but not as intelligent as his mother. At the same time, he was big and strong like his father while having his mother's fine outline and proportions.
Gustav Wied became the best cat in Denmark and Best of Best in Italy, the stronghold of the Persians. He was an uncomplicated and healthy cat. He was never ill, until he got cancer at the age of 9 years. It was much too soon and came all too suddenly.
It was a great consolation that Judith Zuurveld offered us a daughter, 9 months old, from Gustav Wied's last litter. Bergansius Nehalennia resembled her father and helped us to get over his sudden death.
You are here: »
Home
»
Felis Jubatus
»
Hall of Fame
»
Gustav Wied Felis Jubatus