EC Skønhedsplet Felis Jubatus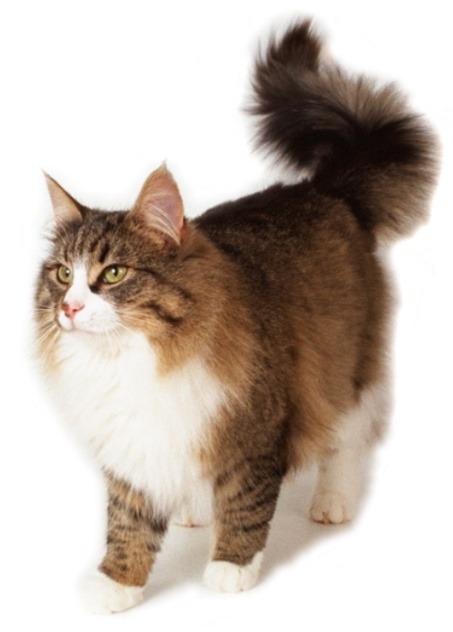 Photo by Kjeld Krogh
Breed

Norwegian Forest Cat

Date of Birth

28-02-1993

Father

ECÂ Flatland's Celius, DM

Mother

CH Jorun Bjørnsdatter Felis Audax

Sex

Female

EMS Color
NFO n 09Â 23 (Group 4)
Blackmackereltabby/white
Title(s)

EC - European Champion

Genotype
 
Breeder(s)

Jette Eva Madsen & Martin Kristensen

Owner(s)

Martin Kristensen

More Info
 
Skønhedsplet
by Jette Eva Madsen.
Skønhedsplet Felis Jubatus was also a daughter of Flatlands Celius. We kept her because her mother Jorun Bjørnsdatter Felis Audax had to be neutered since she was constantly in heat and gave birth to way too large litters (7 to 9 kittens).
Skønhedsplet was a calm and gentle cat who resembled her mother's father Flatlands Bjørnstierne very much. Since she was adopted by Gwynne when she was very young and died a year before Gwynne, we never learned what her personality as a single cat would be like.
The two of them together were very strong. They supplemented each other marvellously and it was fantastic to have the possibility to see how much cats can achieve when they know each other and when they can work together. It was nearly impossible to hide their favourite food. They always found a way to open doors, bags, and boxes. When they wanted attention it was impossible to overlook their attempts to get in contact. Life with the two of them was very challenging and satisfying.
We miss them and their team work very much so we will urge other breeders to try to get a team of two well functioning cats together in order to experience that extra dimension of being a cat owner.
You are here: »
Home
»
Felis Jubatus
»
Hall of Fame
»
Skønhedsplet Felis Jubatus